Seeing as we're a little over a third of the way through Ash's "A-Z Series" project - one of the most exciting and fun music releases in ages, isn't it? - I thought it might be a good time to take a look at where we've been so far.

iTunes! Come here please: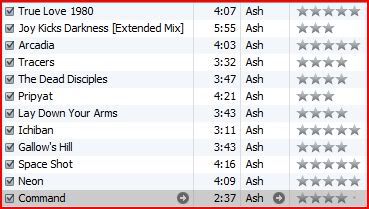 So what's the score? Going by iTunes' very rough star ratings, about 4.25 stars. Not shabby, and even better that there's been no flat out duds yet. [It is not surprising, though, that the two weakest singles so far are 'Twilight of the Innocents' leftovers. Blech.] As a whole, though, the project has made every other Monday the day to look forward to.

The best of the bunch? "Arcadia" gets the slight edge for its exuberance:



Amazing.

Still not entirely sure what the "A-Z" assignments have to do with anything, though I suppose it's more an easy way to organize them than anything else.